A cultural (r)evolution
29 mai 2017
A lab study, headed by the CNRS* team in the framework of the LIFE Alister Project, sheds new light on the Grand Hamster issue, whilst also proving the necessity of continuing innovative agricultural practices trials in the fields.
This is not an easy task: accommodating agricultural activities, preservation of European Hamster and small animals in the fields where agriculture benefits from fertile and deep soil to grow grain crops, beets, potatoes, and sauerkraut cabbage… all this allows farming families to live on farms that are generally quite small. Agricultural systems in hamster zones are generally optimised to guarantee high-quality crops, and any changes will bring about a risk for the farmers, who are venturing into unknown territories.  
Since 2013, agri-environmental measures were put into place in this zone by 150 farmers, grouped into an association[1]on roughly 2,900 ha of land. These measures have allowed the share of maize in the cropping programme to drop to less than 50% of cultivated surfaces and to reach approximately 30% of cultures conducive to the species. Hamster populations are stabilised, but nonetheless have not significantly grown for the moment. This reinforces the interest of trials in the fields undertaken by the LIFE Alister Project. Since 2014, a dozen of hectares cultivated in hamster zones have been earmarked for these trials. They take place in collaboration with many other farmers, agronomic research structures and LIFE Alister Project partners, using principles of conservation farming and agroecology.
 What advantages are there for European Hamsters in changing practices?
The goal of cultivation practices tested aims to improve the duration of soil cover between two crops, and thus protect hamsters from their predators, but also to diversity the nutritional offer for a better hibernation and reproduction. CNRS studies tell us that they must have several different kinds of plants. That can be done by improving the allotment of crops in a given space, like what we do with agri-environmental measures, but also by sowing several plant species on the same cultivated parcel, either simultaneously or successively. Reducing soil cultivation also facilitates the presence of earthworms that hamsters love, as they are omnivorous and also eat insects.
What problems do farmers have?
For the past two years, different agricultural techniques have been tested by farmers in the LIFE Alister programme: the reduction of soil cultivation using a strip-till (working the soil and seeding only by strips), and direct sowing; a semi-permanent ground cover by associated crops and the early sowing of CIPAN*… These techniques are different from conventional procedures and generally require a few years of use to be completely understood. The competition for resources (water, light, soil nutrient matter, etc.) between crops and intermediate crops, the management of adventive plants without labour and without destroying intermediate crops, the choice of species to coinhabit and the management of crop pests or adventive plants usually destroyed by ploughing.  There's no shortage of questions and technical references on these subjects remain few and far between.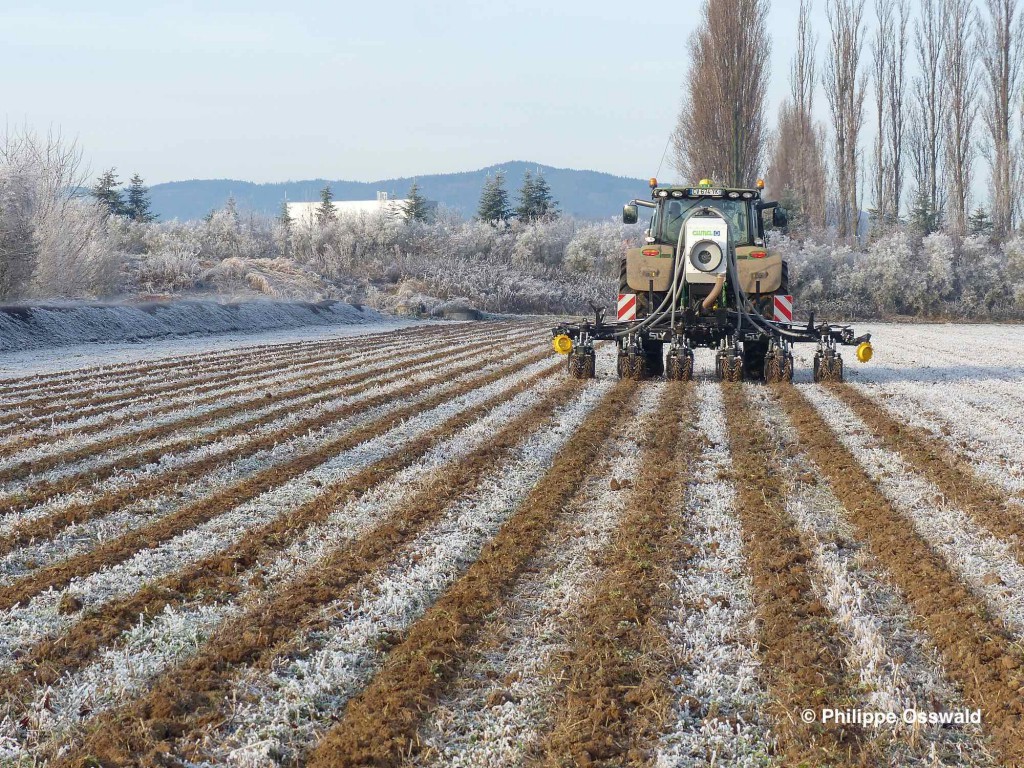 Strip-till: soil cultivation and sowing only in strips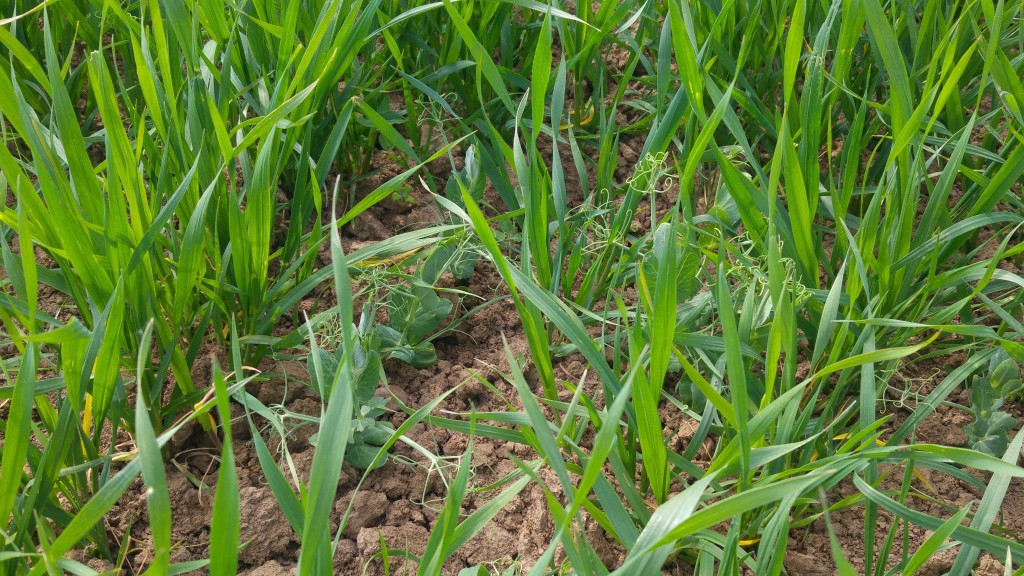 Agronomic trial in the hamster zone: peas sown in wheat
For maize, the critical period is from when the European Hamster finishes its hibernation period, in April, up until when the plant actually plays a protective role in covering the ground, in June. Trials are carried out, for example, to harvest, without too high of a loss, maize sowed in spring with a ground cover already in place. This is hard, because at this early stage of development, maize is still very sensitve to the competition of other plants, and tools that could mitigate this, like strip-tills, still require a lot of practice to be useful. For small grains, the trials aim to implant intermediate cultures either at the same time as the wheat, or a bit later in the crops already in place, or as a last resort, after harvest, so that they'll be able to do the job after the grain crops have been harvested to cover the soil in summer.
What are the benefits of these practices for biodiversity and for farming?
From an agronomic point of view, putting in place vegetation cover to take advantage of these long days to develop and produce biomass, allows us to produce organic matter, which will be stored in the ground as humus, or layered by micro-organisms to produce nutrient matter that other crops can assimilate. A diversity of species in vegetation cover allows us to optimize these functions, whilst helping out small animals in the fields. The Agrifaune Network, including the ONCFS, the FNSEA, the National Federation of Hunters, and the Chamber of Agriculture's Permanent Assembly, recommends sowing vegetation cover of at least two to four species (for further information:  http://www.oncfs.gouv.fr/IMG/pdf/FS291-Cipan.pdf
For LIFE ALISTER's experimental innovative parcels, we chose a mixture of 26% of black oats (a graminaceous plant that is a source of energy and protein especially for the last litters), 26% of purple clover and 26% of crimson clover), legumes that hamsters really appreciate and that also fix nitrogen in the ground and resist well during the chilly winter months), 11% of sunflower (rich in linoleic acid, an essential element for hamsters during their hibernation) and 11% of ramtil (a plant that resists drought, thus ensuring a vegetation cover during heat waves).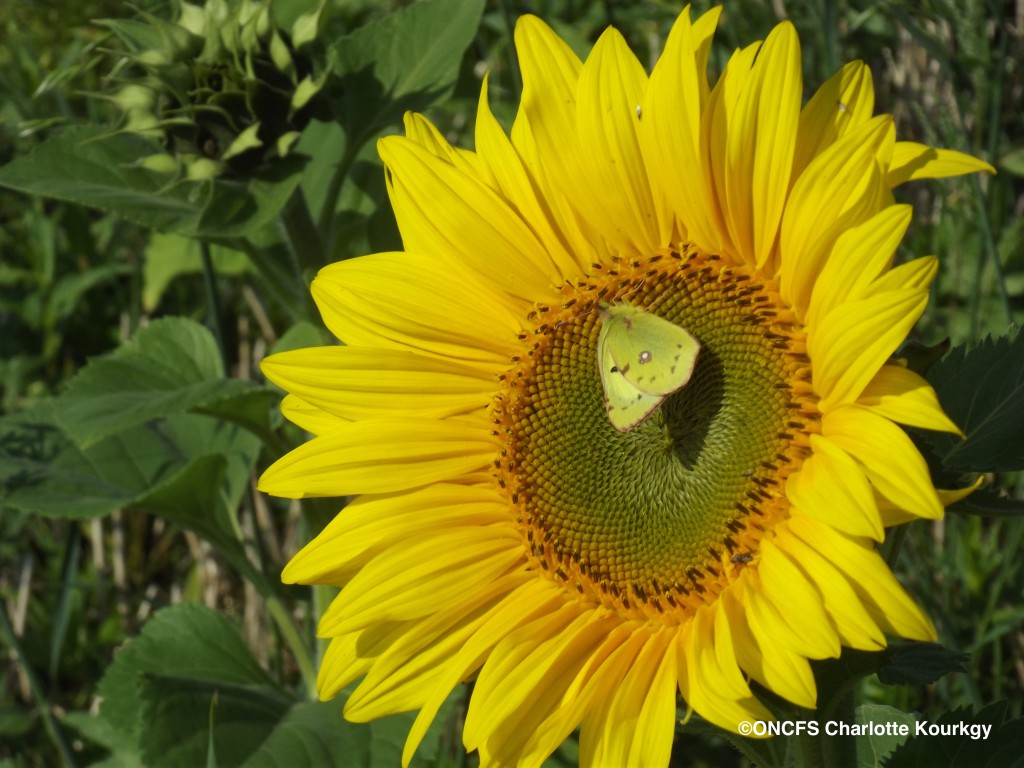 Sunflowers are very rich in linoleic acid, an essential element for hamsters when they hibernate.
A reduction in soil cultivation generally also helps earthworms to develop, which with their galleries, will mix the soil and improve its porosity and aeration, as well as water filtration and biological life in general (bacteria, mushrooms, springtails, etc.). This also decreases soil erosion.
[1]AFSAL Association (Farmers and Wild Animals in Alsace)