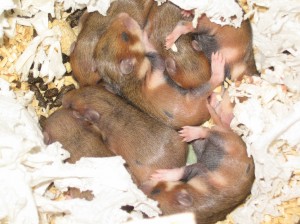 In France, the European Hamster only lives in Alsace and its population is dropping sharply. In 1972, there were 329 Alsatian towns where this animal lived; in 2014, this species is only present with certitude in 17 towns, mainly located in the South-Western area of Strasbourg.
The latest estimations, taken in 2012 (a genetics study), placed the population between 500 and 1,000 hamsters, which is far from what is commonly considered as a viable threshold of 1,500 hamsters.
This situation is why the European Hamster is classified as a protected species and that there are several texts describing possibly harmful behaviour.
A specific action plan targeting protection of the hamster in Alsace, with the 2007-2011 National Action Plan (NAP), was aimed at boosting populations in the three Priority Action Zones, and halting population decline. In spite of progress, the viability threshold in Alsace for the European Hamster still has not been reached. Because of this, a new NAP for the European Hamster was put in place for 2012-2016.

The Alister Project is a complementary and innovative approach.
On one hand, the role of the Alister Project is to consolidate and strengthen results:
higher populations thanks to Hamster releases,
improvement of living conditions thanks to crops favouring Hamster population growth.
On the other, these preservation actions must be sustainable ones which conciliate interests linked to both the environment and the economy.
In this framework, our partners are:
the Chambre d'agriculture de région Alsace (Alsace Chamber of Agriculture),
the Centre National de la Recherche Scientifique (National Center for scientific Research),
the Office Nationale de la Chasse et de la Faune Sauvage (National Hunting and Wildlife Bureau),
the Groupe d'Etude et de Protection des Mammifères d'Alsace (Association for the Alsace mammals' study and protection),
ACTéon,
the Région Alsace (Alsace Region) (also project coordinator).