Congratulations Nathalie Arnold, a Chevalier de l'ordre du Mérite Agricole [A Knight of Agricultural Merit].
26 décembre 2016
On December 2, Nathalie Arnold, who acted just like the LIFE Alister Project's "mum," was knighted by Aimé Lichtenberger, the former director of the Haut-Rhin Chamber of Agriculture.
As usual, the sponsor presented the recipient, speaking about the various missions she had in the Alsace Regional Council as well as the Greater Eastern Region in France.
Amongst the most recent and on-going ones as the Head of the Agriculture and Forest Department since 2009, and now the Assistant Manager for the Environment and Urbanisation, this concerned (and we are quoting Mr Lichtenberger):
" Renewal of support programmes for territorial development;
Heading the Rurality Pact;
Drawing up and rolling out agricultural support programmes;
Defining, in a partnership with Alsace Qualité and the Chamber of Agriculture, the regional policies to support productions whist officially promoting quality;
Implementation and monitoring of agricultural policies co-funded by the FEADER in Alsace.
And of course, the project that overrides all the others (and everyone here is convinced of that) and that is the one she loves the most: the LIFE ALISTER European project to protect the European Hamster in Alsace.
You are completely devoted to this project.
And each and every year you slip into a hamster costume to better impact public opinion.
And here, I'm going to be serious: Back in 2012, when no one believed in this, you were stubborn enough, and that's one of your qualities, to put the LIFE Alister Project together with all of the other stakeholders in a really short time."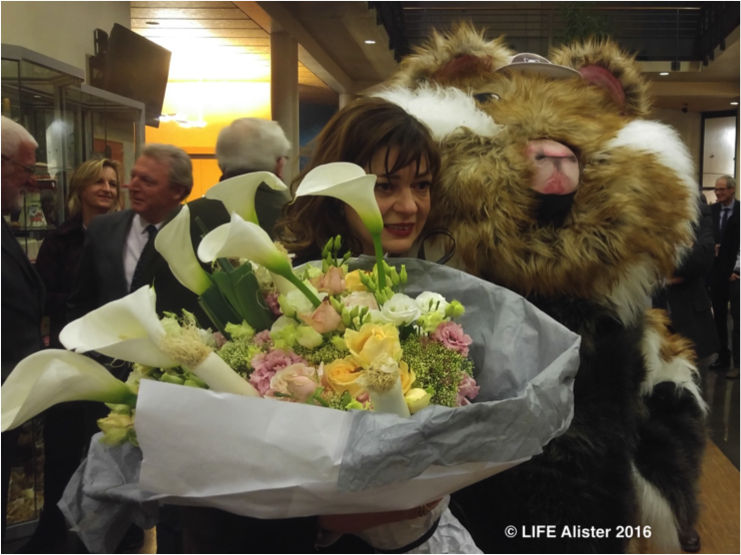 So, what could be more natural than to have our mascot, Alister, congratulate his patroness by giving her a bouquet of flowers and leeks*!
* leek, the nickname of the Agricultural Merit decoration