ALISTER at the 2014 International Hamster Seminar
13 février 2015
For the past twenty or so years, research experts from many European countries have been meeting each year to present the results of their European Hamster research projects and exchange knowledge and experiences.
The 21st International Meeting took place from 14 through 16 November 2014 in Germany. This year's theme was "The Future of the European Hamster: Regional Conservation, National Responsibilities and International Cooperation."
The research experts and naturalists presented the results of their on-going research in many different subjects at the Frankfurt Museum of Natural History and then at the Senckenberg Research Institution in Gelnhausen. Subjects included archaeological research on the evolution of presence of the species in Europe since prehistoric times, the evolution of population with testimonials from a host of different countries spanning Russia to the Netherlands, the physiology of the Hamster's reproduction, feeding habits and hibernation, its behaviour in the urban zones in Crimea, and many more. Scientific data remains very fragmented on this animal, historically considered either as a nuisance, or simply hunted down for its fur. Nonetheless, the majority of studies on the continent note populations that are either declining or even threatened. Some studies focused on agro-environmental measures that various European Union countries had adopted to protect the species whereas others targeted very interesting elements concerning the Hamster's biology.
For examples, scientists proved that during their hibernation period, hamsters save energy by lowering their body temperature to about 4°C. They regularly wake up during winter, and in just a few minutes, change their body temperature, which shoots from 4°C to 37°C, before going back again to the "sleep mode." When they are awake, they will eat, which is extraordinary for a hibernating animal. Usually, animals either lower their temperature, or they stock food to eat while they're in their burrow; the European Hamster does both.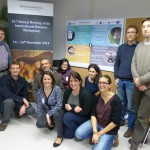 Several French partners of the LIFE ALISTER Project were present: the Alsace Chamber of Agriculture, the CNRS, the ONCFS, as well as the GEPMA. The CNRS presented on-going work on climate change, the hamster's diet and breeding habits, as well as its behaviour when faced with predators; the ONCFS and the Chamber of Agriculture presented new collective agro-environmental measures as well as the preliminary agronomic and ecological results on the lots monitored in the ALISTER Project.
This meeting was thus an opportunity for the Project partners to gain knowledge and exchange points of vue on the hamster, but also on the measures taken for its conservation, both in Alsace and elsewhere in Europe.