Russia, a great country for hamsters!
8 novembre 2017
From 2 to 4 October 2017, a delegation from LIFE Alister was in Moscow to take part in the 24th meeting of the Hamster Workgroup: the unmissable European event for scientists, experts and enlightened enthusiasts who are studying the European Hamster
This meeting enables the various delegations to exchange knowledge and the results of their research on European Hamsters. Some countries – France, Germany and the Netherlands for example – are working on protecting the species, whereas other countries which still have high populations – such as Russia – are interested in the factors causing the extinction of the species that are affecting us and which may concern them, given the socio-economic development that is also the case in their country.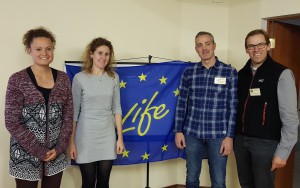 Left to right: Camille Hubé, ONCFS; Caroline Habold, CNRS; Fabrice Capber, large animal veterinary physician; Julien Eidenschenck, ONCFS
The European Hamster is a biodiversity marker and for this reason, anything that may enable its preservation will benefit the ecosystem in general (see Hamster Workgroup in Heidelberg and the meeting with Dutch agronomists: http://www.grand-hamster-alsace.eu/international-hamster-workgroup-23eme-edition/)
The French delegation gathers around Natalya Feoktistova and Alexei Surov, the two Russian researchers from the Severtsov Institute of Ecology and Evolution of the Russian Academy of Sciences in Moscow, who organised the 24th meeting.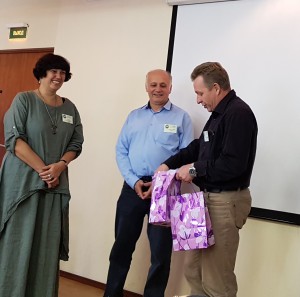 Photo taken as the meeting ended: Ulrich Weinhold, initiator of the Hamster Workgroups in 1994, thanked the organisers and announced that the 25th meeting would be held in France in October 2018.
This meeting was once again very productive for the LIFE Alister delegation, which was able to strengthen its relations with the other teams as well as confirm its organisation of the next Hamster Workgroup: the different countries will meet in Strasbourg in 2018. This seminar will therefore be especially significant for LIFE Alister, which will be coming to the end of the project and whose partners will be able to present many results from the experiments over the last five years.